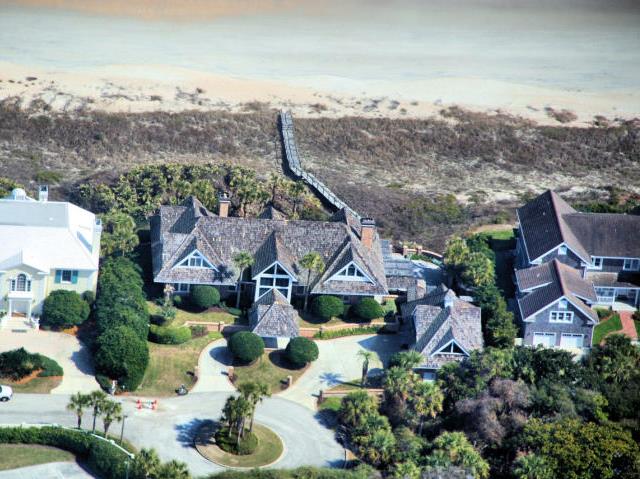 It was just about a year ago at the end of March 2012 that I met Laurie, her husband Clay, and their wonderfully exuberant three year old child. Laurie had found me on my website, as many of my customers do. She explained she had been here in Ponte Vedra Beach many times, and to other parts of Florida as well, in search of the perfect Florida second home. They had just spent a week in Miami and were driving home to Ohio. They just wanted to check out a few more houses before their journey was done. What follows is a three part story of a transition, moving from one place to another, changing the condition, state and style of a house to a home by the sea in Ponte Vedra Beach, Florida.
We had a lovely day exploring Oceanfront homes which Laurie and Clay had selected with their specific criteria in mind. Showing Oceanfront property is my passion, and it's always a pleasure for me to experience "Coastal Living Magazine" in real life. Literally, I can show property at the ocean every day and never be bored. Each Oceanfront home is "unique" and "custom" designed and built by some of the finest architects and craftsmen in the country. It invigorates me and energizes me.
Laurie had a vision in mind and only one home would fit that vision. Like all good buyers, she did not let on that particular day that her heart maybe set on a special place and style. She had to "rule out" any other remote possibilities' and they were "not ready to buy on this trip". Their preferred style was in the genre of a "Shingle" style much like you would see in Cape Cod. The house had to be safe for her child both inside and out. The floor plan had to allow space for their child's bedroom to be close enough to the owner's suite within the house, and also provide an easy access for play both indoors and outdoors, not just the beach as a playground. Her child living and growing up in a "neighborhood" was also important. No decisions were made on this trip and we continued our on-line communications from March to mid-July with Laurie and Clay returning for another visit in July.
Fast forward to July 2012, we got together again. We saw many other "Coastal Living Magazine" possibilities but as Laurie explained "I walked back into the Ocean Ridge house and just "felt" it was right, here was where I wanted to be." After deliberating and negotiations were complete and the closing finalized, Laurie told me she would stay awake at night" filled with imagination and inspiration" for the changes she could envision for her new oceanfront home. Laurie recently shared with me that she "didn't anticipate loving to live here as much as we do". That is a phenomenon that happens to many people who move to Ponte Vedra Beach. Laurie has been so inspired from her experience that her passion for interior design is now taking her in a new direction. Laurie hopes to expand this into a new career and business. Based on what we will share here, Laurie is sure to succeed.
Why Ponte Vedra Beach I asked? Ultimately, besides the weather, Laurie did a great deal of research regarding the school systems in Florida and confirmed that St Johns County has "the number one school system" in the state of Florida. This was definitley where her child should grow up and have that education benefit. Laurie and Clay have been living in Cleveland, Ohio where they have their family business. Plans are to continue to nurture their business in the Buckeye State and enjoy their second home in Florida. Of course I am biased and would like to see them here full time. Time will tell.